Questions with setting up and using Infuse
The quickest way to get help for set up and usage issues will be to look through our Help Center which features a number of helpful guides. New topics are added regularly, and this will provide the most up-to-date info.
There is also an active Discussion Forum where info on a variety of other topics can be found. You are more than welcome to post new questions as well.
Getting one-on-one help
If you are still experiencing trouble after reviewing the above options, or you need to get in touch for any other reason you can open a support ticket and someone from our team will assist you. We work to respond to all emails as quickly as we can.
Note: In many cases, submitting logs (as described below) can be helpful in tracking down issues.
Submitting video samples
If you'd like to upload the video (or a sample of it) you may do so by following these steps.
Submitting logs
On iOS, tap the Email Us option found in the Infuse Settings menu.
Note: Sending an email from within the Infuse app will automatically open a support ticket, so please include a few notes about the issue you are seeing when sending the email (or if you already have an open support ticket you can reference the existing support ticket number).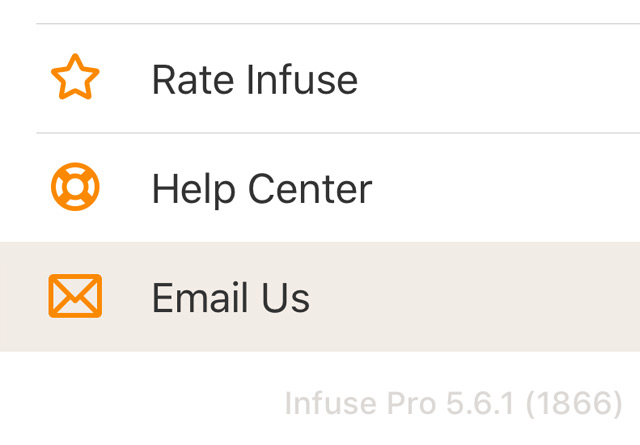 On Apple TV, the option to submit logs can be found in Infuse > Settings > Submit Diagnostics.
After submitting your logs, please send in an email to the address shown, reference the unique code displayed on the Apple TV, and include a few details about the issue you are running into.